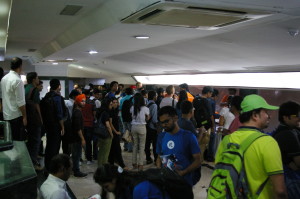 **Note: I realize I'm posting this after it happened, but mainly because of spotty internet and connection between devices. I'm determined to finish my day-by-day, even if it's late!
WordCamp Mumbai finally arrived! I was so excited, I woke up much too early. I got showered, had breakfast and headed out. I walked down the street and summoned an Uber. The guy drove right by me, and then started the trip…without me in the car! I cancelled it, and got charged Rs.100. No big deal. Summon another. Got the same guy. The GPS picked up that he had parked not far down the street, so I walked over to find him and hopped in. Put in the destination again and we started off. The driver obviously didn't speak much English and so I should have known something was fishy when the app tells me that the ride hadn't started yet. I pulled up Google Maps to make sure I knew where I was going and got into my social media for the half hour trip. He had to pull over at one point because Uber called him to make sure that I was the right trip. I confirmed that I was and he carried on. When we arrived, he said that the ride hadn't even started. I'd cancelled the first one and given him a single star rating, so I'm guessing that's why Uber contacted him. He tried to start and stop the ride, but because the distance was negligible, he would have to cancel it. I asked him for the phone and gave a reason why the ride was cancelled. He looked at me as if to ask me what to do. I'm too honest to say "The app says there's no charge, so I'm not paying,". But what to do? I had a solution: If pulled up the app, typed in the pickup point and the destination and pressed "Fare Estimate". It gave me a range of Rs. 275 to Rs. 325. I showed it to him and said: "Three?" to which he agreed. I paid him the money and off I went. I'll deal with Uber later about the first charge, but I'm not that worried about it. Why am I telling you about this? Because I almost feel finally independent in Mumbai. I can function with a mobile phone and data plan, when I either had to go everywhere with my father or hire a driver or rely on friends, family and their drivers. Wow, how times have changed. Great feeling.
I got registered without difficulty and got my swag bag. No T-shirts, which is par for the course back home, but instead, got a mug along with some stickers. Will use them on my desk!
Here are a few of my observations from the day:
·         Few (only 1) female speakers on Saturday. More on Sunday, but none were Technical from the local community.
·         2 female organizers out of 20
·         Sometimes when a woman was speaking, especially asking a question from the crowd, even the moderator started a side chat with someone else in the audience and the laughter in the room almost drowned her out
·         Moderator went to someone else's question over me.
I realize that some of this is cultural, but I know had I been in Canada, many of these things would not have happened. Again, just my observations.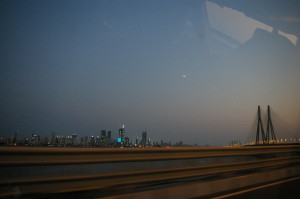 I took an uber home, and this time my ride was great and with no difficulty. When I got home, only a short time before my cousin, I went right for the computer to upload some photos, but my connection dropped out. I had dinner with the family and recounted my day. Tried again on the computer and almost fell asleep at the keyboard. I was in bed before 11 and fell asleep almost immediately.
The one big thing I learned today: I can finally be somewhat Independent in Mumbai. I can put the address into an app and they know where to go. And it's not all that expensive for the few days I'm here. So liberating.